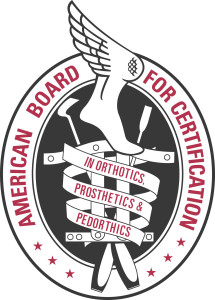 AOPA is pleased to announce that the American Board for Certification in Orthotics, Prosthetics & Pedorthics (ABC) will sponsor the 2017 World Congress' Presidential Papers – representing the top-ten clinical education submissions of original research and backed by a full manuscript.  The Presidential Papers will be published in a special supplement of the Journal of NeuroEngineering and Rehabilitation. ABC's commitment and support will make this research available worldwide through the journal and accompanying search indexes such as Medline.
ABC will also be an official partner of the 2017 AOPA World Congress along with other international partner organizations.
"We are pleased to have a role in positively impacting the dissemination of scientific O&P research, clinical care and methodologies, not only to ABC certifees but also to those who will utilize this research to impact the future of the profession, " said ABC's President Eric Ramcharran, CPO.
"ABC has once again proven its commitment to O&P education and supporting professionals in the field.  We are excited to present the Presidential Papers at the 2017 World Congress, and are honored by ABC's sponsorship," said AOPA's President Michael Oros, FAAOP, CPO, LPO.
ABC joins the following organizations as World Congress partners: Orthotics and Prosthetics Association of India (OPAI), the Charcot-Marie-Tooth Association (CMTA), Amputee Coalition, ConFairMed, Mexico-National Member Society of ISPO, Orthotics Prosthetics Canada, US Member Society of ISPO, and Uniting Frontiers.