The 2021 National Assembly was held in Boston, September 9-11. In addition to the in-person Assembly, we will be offering the education virtually. This content went live September 16-18 and will be available for 90 days.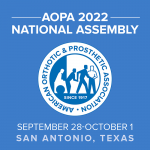 The 2022 National Assembly will be held September 28 – October 1 in San Antonio, TX.
Quick Links:
Questions? Contact Assembly@AOPAnet.org.