Join us in beautiful Vancouver, British Columbia, on Canada's West Coast! Nestled between the Pacific Ocean and the Coast Mountains, Vancouver is home to two million inhabitants who enjoy a mild climate, breathtaking scenery and a wealth of recreational activities. Enjoy all the very best of world class destinations: superlative shopping, exceptional dining, great entertainment and galleries – all perched on nature's edge.
Getting to Vancouver
Air
If you're arriving by air, you'll most likely be flying into Vancouver International Airport (YVR). Located just 25 minutes from downtown, YVR is consistently rated one of the best airports in North America. There are more than a dozen international flights in and out of YVR every day, with 22 bound for the United States. Here is a sample of nonstop flights to Vancouver (approximate hours):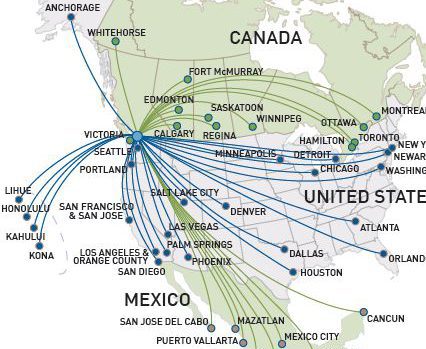 Atlanta: 5.5
Chicago: 4.25
Dallas: 3
Los Angeles: 3
New York: 5.75
Orlando: 6.5
Auckland: 14.25
Beijing: 10.75
Frankfurt: 10.25
Hong Kong: 11.5
London: 9.5
Mexico City: 5.25
Shanghai: 10.5
Sydney: 14
Tokyo: 8.5
Train
Make the journey part of the adventure by taking the train to Vancouver! Consider the Amtrak Cascades route between Eugene, Oregon and Vancouver, via Portland and Seattle. The approximately 4 hour journey to Seattle takes you through the beautiful scenery and may be a convenient option on the way home to take in more sights.
Visa and Passport Information
US Citizens: Canadian law requires that all persons entering Canada carry both proof of citizenship and proof of identity. A valid U.S. passport, passport card, or NEXUS card satisfies these requirements for U.S. citizens.
Other countries: Persons visiting from countries other than the United States must have a valid passport and may require other documentation such as visas. Find out if you need a Visa. Canada has implemented an entry requirement called an Electronic Travel Authorization (eTA). The eTA entry requirement applies to foreign nationals who are visa-exempt and who are boarding a plane to fly to Canada. Exceptions include U.S. citizens and travelers with a valid visa. Entry requirements have not changed for those travelling by land or sea.
Do you have a DUI or other criminal charge?  Read for more information about traveling to Canada.
Transportation from the Airport 
The Vancouver International Airport (YVR) is approximately 11 miles from downtown. Taxi fares are $35 CAD (~$27 USD) to the downtown area. Using public transportation, the Canada Line rail takes 26 minutes and terminates at the Waterfront Station. The cost is approximately $9 CAD$7 USD (including a fee for a single use ticket).
Hotels
AOPA has room blocks at five nearby hotels. The room blocks will be open in coming months.
Marriott Pinnacle Downtown, 1128 West Hastings Street, Vancouver, BC, V6E 4R5
Pinnacle Harbourfront Hotel, 1133 West Hastings Street, Vancouver, BC, V6E 4R5
Hyatt Regency Vancouver, 655 Burrard St, Vancouver, BC V6C 2R7
Coast Coal Harbour Hotel, 1180 Hastings Street West, Vancouver, BC V6E 4R5
Pan Pacific, 300 – 999 Canada Place, Vancouver, BC V6C 3B5