New Format ~ New Program
April 26-27 ~ Washington, DC

Join us April 26 -27, 2016 in Washington, DC for a new Policy Forum experience.  Senator Robert Kerrey will preside over the Tuesday, April 26 morning Legislation-writing Congress to write a simple 1-2 page piece of legislation to take to the Hill on Wednesday, April 27.  This is your opportunity to make your voice heard and participate in the landmark event.
The Annual Policy Forum is your best opportunity to learn the latest legislative and regulatory happenings and how they will affect you, your business and your patients. Once you are armed with the facts, we as a profession will educate our Members of Congress to offer common sense solutions and share how the O&P profession restores lives and puts people back to work. Your Congressional appointments will be organized by AOPA staff and lobbyists.
Why should you attend? Educate lawmakers on the issues that are important to YOU:
1.  Participate in the 2016 O&P Legislation-writing Congress—make your voice heard.
2.  Ensure O&P has fair representation in any O&P LCDs
3.  Make sure Prior Authorization is administered fairly
4.  Help curb RAC audit practices that harm honest providers and don't prevent fraud
5.  Avert the Expansion of Off-the-Shelf Orthoses and Competitive Bidding
6.  Showcase the value of O&P professionals as allied health providers by simply sharing a personal story how O&P restores lives and saves money.
Position Papers
Wounded Warrior Enhancement Act
Competitive Bidding
O&P Improvements Act
Example Congressional Visits (Videos)
Visit with Representative Paulsen's Office
Visit with Representative Ruppersberger's Office
Registration
Schedule
Tuesday, April 26, 2016
7:30 AM
State Representatives Meeting, Salon E
8:30 AM – Noon
O&P Legislative Congress
Salons C/D

Noon – 12:30 PM
Grab and Go Lunch on your own
Noon
O&P PAC Luncheon for Rep. Renee Ellmers (R-NC), Contribution Required
London II
12:30 – 5:15 PM
Policy Forum General Session, Welcome and Introductions
Salons C/D
5:30 PM
Student Debriefing
Salon C/D
5:30 – 6:30 PM
O&P PAC Congressional Fundraiser for Sen. Mark Warner (D-VA) Salon E
6:30
Reception and Dinner
Wednesday, April 27, 2016
7:15 AM
O&P PAC Fundraiser Breakfast for Representative Tammy Duckworth (D-IL), Contribution Required
London I

7:30 AM
Attendee Breakfast and Review of Talking Points
Salon C/D
8:00 AM
Mock Congressional Visit
8:30 AM – 3:00 PM
Congressional Visits
3:15 – 4:30 PM
Reconvene for De-Briefing Session at the Marriott at Metro Center
Salon C/D

Location & Hotel
Washington Marriott at Metro Center
775 12th Street NW
Washington, DC 20005
Reserve by Monday, April 4 for the $299 rate. Call 1-800-236-2427, or book online.
The Washington Marriott at Metro Center features convenient access to the best of Washington, DC area attractions, shopping and dining. The premier location near the DC metro system provides guests easy access to the National Mall, Smithsonian Institution, CityCenterDC, Spy Museum and the National Portrait Gallery. Our hotel's location, engaging environment and dining options, including a Starbucks Café, make the Washington Marriott a great choice for the Policy Forum.
With easy access to the region's major airports, Union Station and the Convention Center, Washington Marriott at Metro Center is a top choice for travelers to DC.
Upscale restaurants, shopping and museums surround our hotel near the Verizon Center.
One of the most convenient hotels near Washington, DC Metro stations brings the best of dining, shopping, sporting events & Verizon Center concerts.
Treat yourself to specialty flatbread pizzas at Fire & Sage restaurant or grab your favorite Starbucks drink in the hotel.
Ground Transportation
The Washington Marriott at Metro Center is approximately 4 miles from Ronald Reagan Washington National Airport.  Cabs are readily available, but for the more adventurous the DC Metro System is a good option.
1. From National Airport Metro Station board the Blue Line towards Largo Town Center. Arrive at Metro Center Metro Station (approx 14 minutes).
2. Exit station through 12th St NW & G St NW entrance.
3. Walk approx. 1 block N on 12th St NW to 775 12th St NW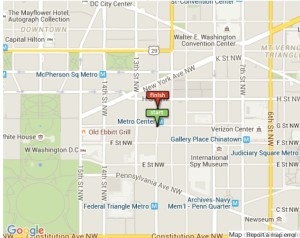 See highlights from the 2015 Policy Forum.