2013 O&P World Congress ~ Overwhelmingly Successful!
Attendees at the recent World Congress of the American Orthotic and Prosthetic Association participated in the largest U.S. O&P meeting in History.
It truly was a global World Congress when more than 2,500 Orthotic, Prosthetic and Pedorthic professionals from 43 countries gathered in Orlando, Florida, USA for the historic September 18-21, 2013 O&P World Congress.
From the 
unique opening ceremony
 that brought tears to many eyes to the high level scientific programming to the business survival day for US Member companies all capped by a fun party at Universal Studios–made it a truly memorable event.  The record breaking exhibit hall featuring 200 exhibiting companies provided the biggest product and services display ever staged in the western hemisphere.  More eyes were teary at the 
Saturday General Session featuring Congresswoman Tammy Duckworth (D-IL)
 and her story of recovery and political advocacy.  Rep. Duckworth joined Rep. Glenn Thompson (R-PA) and Rep. Mike Thompson (D-CA) as co-sponsor of H.R. 3112, the Medicare O&P Improvement Act which will curb fraud and abuse in the Medicare system.  Rep. Dutch Ruppersberger (D-MD) has also joined the effort as a co-sponsor of the legislation.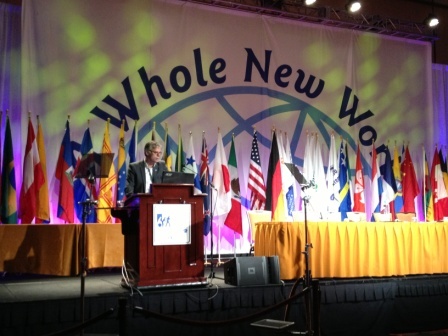 World Congress Highlights:
Business Education Updates/Handouts:
Seven unique organizations and a planning committee from ten countries came together to organize the massive and successful 2013 O&P World Congress.  The hosting organizations include AOPA, U.S. National Member Society of the International Society for Prosthetics and Orthotics (USISPO); the German Association of Orthopaedic Technology/Con.fair.med; the Amputee Coalition, the Canadian Association for Prosthetics and Orthotics (CAPO), Uniting Frontiers and the Mexico Member Society of ISPO.
What attendees are saying
:
"From a first-time AOPA Congress attendee, congratulations on putting on a fantastic event. We learned a lot and made some very good contacts. It certainly made travelling half way around the world worthwhile".
~  Romi Patel, New Zealand
"I wanted to take a moment and congratulate the AOPA team on offering a bang-up meeting.  The session topics were incredibly relevant and the diversity of the world congress attendees worked nicely.  From a networking standpoint, this was the best meeting I have ever attended.  Bravo!"
~ Chris Robinson, MS, MBA, CPO, ATC, FAAOP, Northwestern University
Another World Congress is in the making but final dates have not been coordinated or finalized with the current organizing groups.  But, one date is certain and that's next year, September 4-7, 2014 at the fabulous Las Vegas Mandalay Bay Hotel and Resort.  Mark your calendar now to attend and see how AOPA tries to top this year's World Congress event.