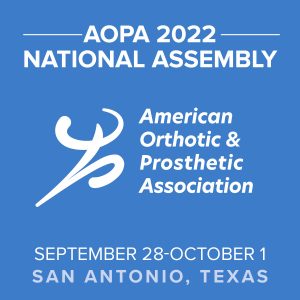 The 2022 National Assembly is scheduled to take place September 28 – October 1 in San Antonio, TX.

Attendees are O&P practitioners, pedorthists, physicians, technicians, fitters, students, educational instructors, facility owners, marketing personnel, physical therapists, residents, office managers, billing specialists, occupational therapists, researchers, engineers, manufacturers, distributors and suppliers of O&P products and services.
WHY EXHIBIT?
Build your customer base and increase sales by meeting with Facility Owners and decision-making practitioners.
Experience face-to-face time with existing customers to answer questions and build new relationships.
Increase visibility for your company/organization in a targeted market.
Increase your exposure through a wide variety of advertising, sponsorship opportunities and Manufacturer's Workshop
Take advantage of education sessions geared to exhibitors.
INTRODUCING…. GoExpo
GoExpo is your one-stop shop to purchase exhibit space, workshops, sponsorships, update directory information for the Assembly, and more! You will be able to see the exhibit floor plan in real time and select your exhibit space. Please note after the initial booking, you will need to access your GoExpo account with a login and password. To make things easy for you, we have created a Single Sign On Process (SSO), so your login and password for GoExpo will be the exact same login as your AOPA Connection (Membership account). Your login is always your email address. If you don't know your password, click the "Forgot your Password" link and you will automatically receive an email with instructions to reset your password. If you have problems accessing your account, please contact 571-431-0876 or assembly@aopanet.org.
If you are an AOPA Member click here to sign up to exhibit.
If you are a Non-Member click here to sign up to exhibit. If you are interested in joining, click here to learn more about AOPA membership.
2022 Exhibit Space Cost
10×10 Exhibit Space: Member $2,950 and Non-Member $7,500
MANUFACTURER'S WORKSHOPS & PRODUCT PREVIEW THEATERS (PPT)- Now Available
Manufacturers' Workshops and Product Preview Theater (PPT) applications are now being accepted. You can sign up to participate for these opportunities through your GoExpo account, under Resources & Store tab. As a reminder here is a step by step process on how to access your GoExpo exhibit account through AOPA Connection.   If you have any issues accessing your account please reach out to Kelly.oneill@aopanet.org.
SHOW SCHEDULE* (subject to change)
Exhibitor Move-In

Tuesday September 27, 2022            10:00 AM – 5:00 PM
Wednesday September 28, 2022       7:00 AM – 3:00 PM
Exhibit Hours

Wednesday September 28, 2022       5:30 PM – 7:30 PM (Welcome Reception)
Thursday September 29, 2022           9:00 AM – 6:30 PM  (Exhibitor Happy Hour & O&P Experience Zone 5:00 – 6:30 PM)
Friday September 30, 2022                9:00 AM – 2:00 PM
Exhibitor Move-Out

Friday September 30, 2022                2:00 PM – 8:00 PM
QUICK LINKS:

Questions? Contact Kelly O'Neill at kelly.oneill@AOPAnet.org