Students and Residents – Gain National Recognition and Advance Your Career!
Enter to win one of two prestigious awards–The Student-Resident Poster award honors two meritorious scientific papers submitted for presentation as a poster at the 2021 National Assembly. The purpose of these awards is to encourage students and residents to display outstanding posters. The deadline for submissions is July 16.
The Otto and Lucille Becker Award will be presented for the best orthotic abstract submitted and the Edwin and Kathryn Arbogast Award for the best prosthetic abstract submitted by a qualifying student or resident.
The poster must be exhibited and presented at the 2021 National Assembly for the award recipient to receive the prize.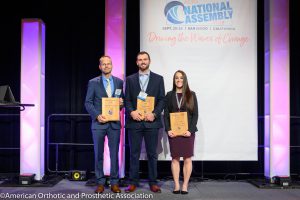 The winners will receive a $500 cash award, three nights hotel, round trip airfare, and registration to the show.  To qualify to present a poster in this category and eligible for consideration for this award, the main author must be a student (baccalaureate or master level) or a resident at a qualified patient care facility.
Abstracts will not be considered for either award if they have been previously presented, published, or are currently submitted with pending decision on acceptance elsewhere.
These awards have been made possible by a special endowment by Becker Orthopedic and WillowWood.
Poster presenter logistics will be provided at a future date.