We started with a Tuesday press advisory which included AC and AOPA—Senator Bob Kerrey, Charles Dankmeyer, Adrianne Haslet, Drs. Paul Pasquina and Stephen Fisher, and Amputee Coalition President Dan Berschinski.  It began the tide of press interest which carried over to the August 26th events.  The DME MAC hearing attracted roughly 200 amputees, to hear 81 witnesses speak for 3 minutes each—roughly 50 addressing prosthetics and ALL opposing the DME MAC proposal.  AOPA President Charles Dankmeyer, CPO, Tom Watson, CP, Boston Bombing Amputee Adrianne Haslet and Executive Director Tom Fise each made presentations for AOPA. Spirits were high as the DME MAC Medical Directors listened without comment or note-taking to 5 solid hours of presenters.
The scene shifted to the Amputee Patient Rally at the HHS Headquarters.  Approximately 150 amputees attended, carrying signs, marching, chanting, and sharing stories (see photos below).  Last week, AOPA Executive Director Tom Fise had written to HHS Secretary Burwell, informing her of the planned rally, and offering to meet with her.  It came as a surprise when late Tuesday night, NAAOP Counsel Peter Thomas and Tom Fise received a reply offering a 4 pm meeting to 8 individuals with CMS Administrator Slavitt, the Senior Counsel to the HHS Secretary, Kevin Thurm, Deputy CMS Administrator Sean Cavanaugh (AOPA had met with Mr. Cavanaugh previously, on August 11) CMS Chief Medical Officer Patrick Conway, MD, And HHS' Sharon Lewis along with other senior officials.
The O&P community was represented by 5 amputees among the group of 8 which consisted of: AOPA President Charles Dankmeyer, CPO; Tom Watson, CP; Adrianne Haslet, NAAOP President Dave McGill, Jack Richmond and Sue Stout from the Amputee Coalition, NAAOP Counsel Peter Thomas and AOPA's Tom Fise. The group had a good, and hopefully productive meeting with CMS/HHS folks. The official CMS press release can be seen (below).  From AOPA's perspective, CMS officials underscored that cost and financial concerns are not an appropriate basis for writing or changing an LCD, and that such decisions must have a strong evidence basis, and that assuring high quality of patient care for Medicare beneficiaries is a paramount concern.  Some strong attention focused on the letter from researchers (Jim Campbell, PhD, CO; working with Wendy Beattie, CPO; Gary Berke, MS, CP; Jason Highsmith, PhD, DPT, CP) and others had prepared and presented at the DME MAC session a powerful statement which was shared for the CMS/HHS officials, and the asserted absence of evidence-based rationale.  The CMS officials indicated that there will be follow-up conversations with the DME MACs, and if those discussions lead to strong emphasis on evidence and high quality patient care, I think it would point to a very different kind of LCD, one that may prompt some of the concerns expressed in various forms yesterday to be allayed.
The rally and other events surrounding the LCD policy have been heavily featured in the media. Below are some photos and links to the media stories generated.
Overall, a very good day for O&P, as our TV and print messages continue to appear in major outlets seen by D.C. policymakers (in today's Hill, Washington Post and on TV news programs).  Below the press release is the media list of links through 11 a.m today
TEXT OF CMS PRESS RELEASE
Readout of Senior CMS and HHS Officials' Meeting with Amputee Advocates
Importance: High
FOR IMMEDIATE RELEASE
August 26, 2015
Readout of Senior CMS and HHS Officials' Meeting with Amputee Advocates
Today, senior officials from CMS and HHS met with individuals and representatives of groups concerned with a recent policy proposal issued by regional Medicare payment contractors regarding coverage of lower-limb prosthetics. CMS and HHS officials expressed the critical importance of Medicare beneficiaries' access to appropriate and medically necessary lower-limb prosthetics, and appreciated hearing personal stories and comments on the proposal from the group.
As the proposal is still open for public comment, CMS and HHS officials stressed that stakeholders' input was vital to the process as the Medicare regional payment contractors finalize a new policy. CMS officials said they would work with the regional contractors' medical directors so that any final policy is supported by clinical evidence and does not limit necessary services for Medicare beneficiaries.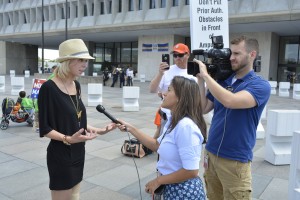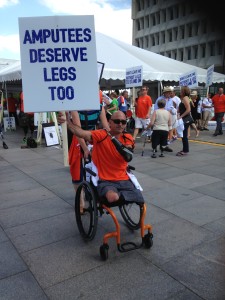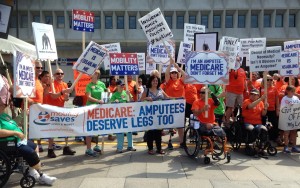 Major Press Stories
Associated Press (as appearing on ABCNews.com) 
Wall Street Journal
CNN 
The Washington Post 
Read AOPA President Charlie Dankmeyer, Jr., CPO's Opinion Editorial on the LCD Draft in the  Washington Times 
Associations Now feature on AOPA
Other Stories:

Chicago Tribune – http://www.chicagotribune.com/news/sns-bc-us–medicare-artificial-feet-20150827-story.html
CNBC – http://www.cnbc.com/2015/08/27/the-associated-press-amputees-decry-medicare-payment-overhaul-for-artificial-feet.html
Yahoo! Tech – https://www.yahoo.com/tech/s/amputees-decry-medicare-payment-overhaul-artificial-feet-070941167–politics.html?nf=1
Yahoo! Finance – https://finance.yahoo.com/news/amputees-decry-medicare-payment-overhaul-070913677.html
MSN News – http://www.msn.com/en-ca/news/other/amputees-decry-medicare-payment-overhaul-for-artificial-feet/ar-BBm8uX5
News & World Report‎ – http://www.usnews.com/news/politics/articles/2015/08/27/amputees-decry-medicare-payment-overhaul-for-artificial-feet
Business Insider – http://www.businessinsider.com/ap-amputees-decry-medicare-payment-overhaul-for-artificial-feet-2015-8
Scripps Media – http://www.thedenverchannel.com/news/amputees-unite-against-new-medicare-proposal-for-prosthetic-limb-coverage
UPI – http://www.upi.com/Health_News/2015/08/26/New-Medicare-rule-may-make-it-harder-for-amputees-to-get-prosthetics/1321440614623/
com – http://www.politico.com/tipsheets/politico-pulse/2015/08/eighth-sting-video-part-of-strategic-release-cmp-founder-says-another-cms-to-ahip-move-aco-savings-fall-in-2014-019784
Denver Post – http://www.denverpost.com/breakingnews/ci_28711333/amputees-decry-medicare-payment-overhaul-artificial-feet?source=rss
Houston Chronicle – http://www.chron.com/business/technology/article/Amputees-decry-Medicare-payment-overhaul-for-6468252.php
Miami Herald – http://www.miamiherald.com/news/article32513055.html
San Francisco Chronicle – http://www.sfgate.com/business/technology/article/Amputees-decry-Medicare-payment-overhaul-for-6468252.php
Atlanta Journal Constitution – http://www.ajc.com/ap/ap/top-news/amputees-decry-medicare-payment-overhaul-for-artif/nnRtD/
Louis Post-Dispatch – http://www.stltoday.com/news/amputees-decry-medicare-payment-overhaul-for-artificial-feet/article_f6315c9c-10eb-55a3-b3c0-8e391143bb87.html
Kansas City Star – http://www.kansascity.com/news/article32513055.html
San Diego Union Tribune – http://www.sandiegouniontribune.com/news/2015/aug/27/amputees-decry-medicare-payment-overhaul-for/
Sacramento Bee – http://www.sacbee.com/news/article32513055.html
Las Vegas Sun – http://lasvegassun.com/news/2015/aug/27/amputees-decry-medicare-payment-overhaul-for-artif/
Austin (TX) American Statesman – http://www.statesman.com/ap/ap/top-news/amputees-decry-medicare-payment-overhaul-for-artif/nnRtD/
Washington Times – http://www.washingtontimes.com/news/2015/aug/27/amputees-decry-medicare-payment-overhaul-for-artif/
Chicago Daily Herald – http://www.dailyherald.com/article/20150827/business/308279939
Charlotte (NC) Observer – http://www.charlotteobserver.com/news/article32513055.html
Baltimore Sun (story #2) – http://www.baltimoresun.com/health/bs-md-amputees-meeting-20150826-story.html
Washington Examiner – http://www.washingtonexaminer.com/amputees-protest-proposed-restrictions-for-prosthetics/article/2570897
Seattle Post-Intelligencer – http://www.seattlepi.com/business/technology/article/Amputees-decry-Medicare-payment-overhaul-for-6468252.php
San Antonio (TX) Express-News – http://www.expressnews.com/business/technology/article/Amputees-decry-Medicare-payment-overhaul-for-6468252.php
News & Observer (Raleigh, NC) – http://www.newsobserver.com/news/article32513055.html
Columbus (OH) Dispatch – http://www.dispatch.com/content/stories/local/2015/08/25/medicare-changes-prostheses.html
Minneapolis Star Tribune – http://www.startribune.com/protest-seeks-to-block-medicare-policy-changes-on-prosthetics-payments/323037561/
Palm Beach Post – http://palmbeachhealthbeat.blog.palmbeachpost.com/2015/08/25/advocates-say-medicare-rule-change-would-devastate-amputees/
Richmond Times-Dispatch – http://www.richmond.com/news/national-world/collection_3fb340c8-ec04-5c82-9820-e1a67a42e8e5.html
Memphis Commercial Appeal – http://www.commercialappeal.com/news/national/amputees-unite-against-new-medicare-proposal-for-prosthetic-limb-coverage
Connecticut Post (Bridgeport, CT) – http://www.ctpost.com/business/technology/article/Amputees-decry-Medicare-payment-overhaul-for-6468252.php
Tampa (FL) Tribune – http://www.tbo.com/ap/national/amputees-decry-medicare-payment-overhaul-for-artificial-feet-ap_nationald9cf0870b02843568469cc1599da3992
Lexington (KY) Herald-Leader – http://www.kentucky.com/2015/08/27/4007291/amputees-decry-medicare-payment.html
The Oklahoman (Oklahoma City, OK) – http://newsok.com/article/feed/881163
Richmond (VA) Times-Dispatch – http://www.richmond.com/news/latest-news/ap/article_1f90a512-3b4e-502f-9e67-f31d6487bfe9.html
Albany (NY) Times-Union – http://www.timesunion.com/business/technology/article/Amputees-decry-Medicare-payment-overhaul-for-6468252.php
Tulsa (OK) World – http://www.tulsaworld.com/news/government/ap/amputees-decry-medicare-payment-overhaul-for-artificial-feet/article_dfb74e09-a536-56a8-b98e-8b76c0d1cd3c.html
Albuquerque (NM) Journal – http://www.abqjournal.com/635010/biz/biz-most-recent/amputees-decry-medicare-payment-overhaul-for-artificial-feet.html
Arizona Daily Star (Tucson, AZ) – http://tucson.com/business/technology/amputees-decry-medicare-payment-overhaul-for-artificial-feet/article_da68c853-ba34-5fca-a1aa-6ea657f7e7c1.html
Wisconsin State Journal (Madison, WI) – http://host.madison.com/business/technology/amputees-decry-medicare-payment-overhaul-for-artificial-feet/article_526ebd0e-d7dd-5acd-ad47-eb20baead3a6.html
The Virginian-Pilot (Norfolk, VA) – http://hamptonroads.com/2015/08/amputees-decry-medicare-payment-overhaul-artificial-feet
The State (Columbia, SC) – http://www.thestate.com/news/article32513055.html
Fresno (CA) Bee – http://www.fresnobee.com/news/article32513055.html
Knoxville (TN) News-Sentinel – http://www.knoxnews.com/news/nation-and-world/amputees-decry-medicare-payment-overhaul-for-artificial-feet_41695794
New Jersey Herald – http://www.njherald.com/story/29889752/amputees-decry-medicare-payment-overhaul-for-artificial-feet
West Virginia State Journal – http://www.statejournal.com/story/29889767/amputees-decry-medicare-payment-overhaul-for-artificial-feet
The Roanoke (VA) Times – http://www.roanoke.com/news/wire_headlines/amputees-decry-medicare-payment-overhaul-for-artificial-feet/article_49a3b8c1-d713-5ce5-a442-98366889b4fc.html
Palm Beach (FL) Post – http://www.palmbeachpost.com/ap/ap/top-news/amputees-decry-medicare-payment-overhaul-for-artif/nnRtD/
Beaumont (TX) Enterprise –http://www.beaumontenterprise.com/business/technology/article/Amputees-decry-Medicare-payment-overhaul-for-6468252.php
Waco (TX) Tribune – http://www.wacotrib.com/news/ap_nation/headlines/amputees-decry-medicare-payment-overhaul-for-artificial-feet/article_b20d6cf9-7256-5fdb-ac29-b9ee44fd4c41.html
Laredo (TX) Morning Times – http://www.lmtonline.com/featured-ap/article_285b6b73-ac67-5991-8380-5a5bb8ccb4ec.html
Winston-Salem (NC) Journal – http://www.journalnow.com/news/nation_world_ap/amputees-decry-medicare-payment-overhaul-for-artificial-feet/article_fa6ad0e5-ddb3-5bea-943b-28225f863fd4.html
Bismarck (ND) Tribune – http://bismarcktribune.com/business/technology/amputees-decry-medicare-payment-overhaul-for-artificial-feet/article_03a659fe-2ecd-5814-946f-93d64719b352.html
Chattanooga (TN) Times Free Press –http://www.timesfreepress.com/news/national/health/story/2015/aug/27/amputees-decry-medicare-payment-overhaul-arti/321997/
Chattanooga (TN) Times Free Press (story #2) –http://www.timesfreepress.com/news/local/story/2015/aug/23/local-amputee-jordthomcriticizes-medicare-pro/321232/
Idaho Statesman (Boise, ID) – http://www.idahostatesman.com/2015/08/27/3957000_amputees-decry-medicare-payment.html?rh=1
The Olympian (Olympia, WA) – http://www.theolympian.com/news/business/article32513055.html
Casper (WY) Star-Tribune – http://trib.com/business/technology/amputees-decry-medicare-payment-overhaul-for-artificial-feet/article_7e944710-262c-59db-9326-b695c48e52aa.html
Naples Daily News – http://www.naplesnews.com/news/national/amputees-unite-against-new-medicare-proposal-for-prosthetic-limb-coverage
Knoxville (TN) News Sentinel – http://www.knoxnews.com/news/amputees-unite-against-new-medicare-proposal-for-prosthetic-limb-coverage
Tuscaloosa (AL) News – http://www.tuscaloosanews.com/article/20150827/APW/308279923
Daytona Beach (FL) News-Journal – http://www.news-journalonline.com/article/20150827/APW/308279923
Greensboro (NC) News & Record – http://www.greensboro.com/news/us_world_ap/amputees-decry-medicare-payment-overhaul-for-artificial-feet/article_8852a25a-5094-5d69-8a7e-356a560980aa.html
Roanoke (VA) Times – http://www.roanoke.com/news/local/proposed-medicare-change-would-knock-new-legs-out-from-amputees/article_b7f44572-721f-5722-a033-53a1ef0910dc.html
State Journal-Register (Springfield, IL) – http://www.sj-r.com/article/ZZ/20150827/NEWS/308279982/0/SEARCH
Durango (CO) Herald – http://www.durangoherald.com/article/20150827/APW/308279923/Amputees-decry-Medicare-payment-overhaul-for-artificial-feet
Island Packet (Hilton Head, SC) – http://www.islandpacket.com/2015/08/27/3897158_amputees-decry-medicare-payment.html?rh=1
Myrtle Beach (SC) Sun News – http://www.myrtlebeachonline.com/news/article32513055.html
The Missoulian (Missoula, MT) – http://missoulian.com/business/technology/amputees-decry-medicare-payment-overhaul-for-artificial-feet/image_bbb384b5-bdc0-5805-b096-53ce22181c99.html
Wichita (KS) Eagle – http://www.kansas.com/news/article32513055.html
The Press of Atlantic City (NJ) – http://www.pressofatlanticcity.com/news/ap/amputees-decry-medicare-payment-overhaul-for-artificial-feet/article_c701f63b-b632-5464-aef5-4c2a68226a9c.html
The Gazette (Colorado Springs, CO) – http://gazette.com/amputees-decry-medicare-payment-overhaul-for-artificial-feet/article/feed/265603
Billings (MT) Gazette – http://billingsgazette.com/news/science/amputees-decry-medicare-payment-overhaul-for-artificial-feet/article_faafff5d-f494-554e-922a-f8ed9c305309.html
Post Bulletin (Rochester, MN) – http://www.postbulletin.com/life/health/amputees-decry-medicare-payment-overhaul-for-artificial-feet/article_802ade9c-b8e2-5613-a9b6-8168b086c9fe.html
Dayton (OH) Daily News – http://www.daytondailynews.com/news/ap/top-news/amputees-decry-medicare-payment-overhaul-for-artif/nnRtD/
Sioux City (IA) Journal – http://siouxcityjournal.com/business/technology/amputees-decry-medicare-payment-overhaul-for-artificial-feet/article_f27ebee4-dda2-5a8c-af01-49abdbdd64c3.html
Rapid City (SD) Journal – http://rapidcityjournal.com/business/technology/amputees-decry-medicare-payment-overhaul-for-artificial-feet/article_c0b80ce6-96aa-5e0f-9951-9e58381a087a.html
Merced (CA) Sun-Star – http://www.mercedsunstar.com/news/article32513055.html
Gainesville (FL) Sun – http://www.gainesville.com/article/20150827/APW/308279923
Sturgis (SD) Journal – http://www.sturgisjournal.com/article/ZZ/20150827/NEWS/308279982
Opelika-Auburn (AL) News – http://www.oanow.com/apwire/news/national/article_f7c399db-0fb2-502b-bc18-46dd632cc802.html
Houma (LA) Today – http://www.houmatoday.com/article/20150827/APW/308279923
Telegram & Gazette (Worcester, MA) –http://www.telegram.com/article/20150827/NEWS/150829350/101492
Fremont (NE) Tribune – http://fremonttribune.com/news/state-and-regional/amputees-decry-medicare-payment-overhaul-for-artificial-feet/article_b190a0ba-da14-5b2b-9730-e1f8a88a4f17.html
The Tribune (San Luis Obispo County, CA) –http://www.sanluisobispo.com/2015/08/27/3779632/amputees-decry-medicare-payment.html
Sun Herald (Gulfport, MS) – http://www.sunherald.com/2015/08/27/6384623/amputees-decry-medicare-payment.html
La Crosse (WI) Tribune – http://lacrossetribune.com/business/technology/amputees-decry-medicare-payment-overhaul-for-artificial-feet/article_70f7cee7-dded-5561-8db1-4009346ebb5f.html
Macon (GA) Telegraph – http://www.macon.com/news/article32513055.html
Greenwich (CT) Time – http://www.greenwichtime.com/business/technology/article/Amputees-decry-Medicare-payment-overhaul-for-6468252.php
Odessa (TX) American – http://www.oaoa.com/people/health/article_afb758b7-b233-59ab-a559-072d7312fdac.html
News & Advance (Lynchburg, VA) – http://www.newsadvance.com/news/national/wire/amputees-decry-medicare-payment-overhaul-for-artificial-feet/article_7d9557e9-6bb1-56f3-b519-eb68c8d50597.html
Corvallis (OR) Gazette Times – http://www.gazettetimes.com/business/technology/amputees-decry-medicare-payment-overhaul-for-artificial-feet/article_b74d1dbb-a267-5a29-ab38-11ccb6373842.html
Scottsbluff (NE) Star Herald – http://www.starherald.com/news/nation_world/amputees-decry-medicare-payment-overhaul-for-artificial-feet/article_b3da92a3-b015-5abe-a650-366441f89584.html
News Herald (Morganton, NC) – http://www.morganton.com/news/us/ap/amputees-decry-medicare-payment-overhaul-for-artificial-feet/article_b4c160be-33cc-5ac1-80c6-2739d7335d4b.html
Times and Democrat (Orangeburg, SC) – http://thetandd.com/business/technology/amputees-decry-medicare-payment-overhaul-for-artificial-feet/article_784af326-5cd2-5e0f-9382-ea1f47b016fa.html
The Herald-Palladium (St. Joseph, MI) – http://www.heraldpalladium.com/news/wire/amputees-decry-medicare-payment-overhaul-for-artificial-feet/article_0a69df3a-2794-5b07-8e5b-d3c5c33389fa.html
The Sentinel (Carlisle, PA) – http://cumberlink.com/news/science/amputees-decry-medicare-payment-overhaul-for-artificial-feet/article_01aeb56d-4d9e-571c-ba2d-fbfc2c77da8d.html
The Eagle (Bryce-College Station, TX) – http://www.theeagle.com/news/politics/amputees-decry-medicare-payment-overhaul-for-artificial-feet/article_fe96b010-6b3f-5df5-ba7e-6d8480e72f8e.html
Daily American (Somerset, PA) – http://www.dailyamerican.com/life/technology/amputees-decry-medicare-payment-overhaul-for-artificial-feet/article_637755e0-4d40-5004-b2f5-a3e3bc0ecd50.html
Cadillac (MI) Evening News –http://www.cadillacnews.com/ap_story/business/20150827_ap_d9cf0870b02843568469cc1599da3992.html
Waterloo Cedar Falls (IA) Courier – http://wcfcourier.com/business/technology/amputees-decry-medicare-payment-overhaul-for-artificial-feet/article_ec98d8eb-0d7a-5929-968c-c8322936935c.html
Winona (MN) Daily News – http://www.winonadailynews.com/business/technology/amputees-decry-medicare-payment-overhaul-for-artificial-feet/article_ffc2cddd-8d2f-5885-ac2b-3fc8bcc41e24.html
Hickory (NC) Daily Record – http://www.hickoryrecord.com/news/us/ap/amputees-decry-medicare-payment-overhaul-for-artificial-feet/article_eb29b038-6e99-5af0-ad95-e198ed279212.html
Argus Press (Owosso, MI) – http://www.argus-press.com/news/national/article_8a3655bd-9b8a-5130-ad8c-4d96d2768873.html
Morning News (Florence, SC) – http://www.scnow.com/news/headlines/article_e5142786-a5c5-571b-9ee9-345fab3b687c.html
Statesville (NC) Record & Landmark – http://www.statesville.com/news/us/ap/amputees-decry-medicare-payment-overhaul-for-artificial-feet/article_a26793ca-a0db-550e-b39c-fffb64fcab2c.html
Independent Tribune (Concord, NC) – http://www.independenttribune.com/news/us/ap/amputees-decry-medicare-payment-overhaul-for-artificial-feet/article_d716c4cf-ca44-5894-85fc-f8dbc11f0f0d.html
Lompoc (CA) Record – http://lompocrecord.com/business/technology/amputees-decry-medicare-payment-overhaul-for-artificial-feet/article_940b0ec3-6d71-5c27-92bf-d146cfef9d05.html
Kokomo (IN) Tribune – http://www.kokomotribune.com/news/nation_world_news/amputees-decry-medicare-payment-overhaul-for-artificial-feet/article_e55e51e4-4cb1-11e5-9dbe-6f490a13940b.html
Killeen (TX) Daily Herald – http://kdhnews.com/news/politics/amputees-decry-medicare-payment-overhaul-for-artificial-feet/article_a3b4ac39-3fcc-5d62-b67f-728eb6c78ae3.html
Bristol (VA) Herald Courier – http://www.heraldcourier.com/news/amputees-decry-medicare-payment-overhaul-for-artificial-feet/article_8df022f8-472c-5a59-ad71-ea432614d151.html
Chippewa (WI) Herald- http://chippewa.com/business/technology/amputees-decry-medicare-payment-overhaul-for-artificial-feet/image_48cfd412-b86f-5708-842f-dd9bace833c6.html
Daily Times (Maryville, TN) – http://www.thedailytimes.com/community/amputees-decry-medicare-payment-overhaul-for-artificial-feet/article_410c1890-d692-58c9-ad0a-83fd5c93365c.html
The Dispatch (Clay Center, KS) – http://www.ccenterdispatch.com/article_aeca5e2d-2d49-55af-a7e1-74c1c649d693.html
Watertown (SD) Public Opinion –http://www.thepublicopinion.com/news/associated_press/science_and_technology/amputees-decry-medicare-payment-overhaul-for-artificial-feet/article_40a29d8b-8d6d-5419-a13c-699cde31da53.html
Bellefontaine (OH) Examiner – http://www.examiner.org/newsx/ap-news/54116-amputees-decry-medicare-payment-overhaul-for-artificial-feet
Albany (OR) Democrat-Herald – http://democratherald.com/business/technology/amputees-decry-medicare-payment-overhaul-for-artificial-feet/article_47827842-e2d9-5fff-bccb-00d956fbb79a.html
Cox Media – http://www.cox.com/myconnection/today/news/science-and-tech/article.cox?moduleType=apNews&articleId=7f01adcbd18c4661b839371962894f10
Daily Progress (Charlottesville, VA) – http://www.dailyprogress.com/news/politics/wire/amputees-decry-medicare-payment-overhaul-for-artificial-feet/article_65ef178d-9007-5112-8e37-0c97f99d5ba7.html
Ocala (FL) Star-Banner – http://www.ocala.com/article/20150827/APW/308279923
Yakima (WA) Herald-Republic – http://www.yakimaherald.com/lifestyle/health/amputees-decry-medicare-payment-overhaul-for-artificial-feet/article_a49b5f3f-a756-5d40-9258-d9cad9e56aa0.html
Bastrop (LA) Daily Enterprise –http://www.bastropenterprise.com/article/ZZ/20150827/NEWS/308279982
Daily Nonpareil (Council Bluffs, IA) –http://www.nonpareilonline.com/news/political_news/wire/amputees-decry-medicare-payment-overhaul-for-artificial-feet/article_bff5d637-7f72-5d32-90ba-67c518493fac.html
The Times of Northwest Indiana – http://www.nwitimes.com/business/technology/amputees-decry-medicare-payment-overhaul-for-artificial-feet/article_bcb0b7b2-fe84-5d1f-b2d2-99590d377f93.html
Pontiac (IL) Daily Leader – http://www.pontiacdailyleader.com/article/ZZ/20150827/NEWS/308279982
Hope (AR) Star – http://www.hopestar.com/article/ZZ/20150827/NEWS/308279982/-1/News
Beauregard (LA) Daily News –http://www.beauregarddailynews.net/article/ZZ/20150827/NEWS/308279982
Helena Arkansas Daily World – http://www.helena-arkansas.com/article/ZZ/20150827/NEWS/308279982
Bozeman (MT) Daily Chronicle – http://www.bozemandailychronicle.com/ap_news/health/amputees-decry-medicare-payment-overhaul-for-artificial-feet/article_86e05622-f552-58ba-9c3b-ec677973a96e.html
The Ledger (Lakeland, FL) – http://www.theledger.com/article/20150827/APW/308279923
Canton (IL) Daily Ledger – http://www.cantondailyledger.com/article/ZZ/20150827/NEWS/308279982
Star Courier (Kewanee, IL) – http://www.starcourier.com/article/ZZ/20150827/NEWS/308279982
The Daily News (Kelso, WA) – http://tdn.com/lifestyles/health-med-fit/amputees-decry-medicare-payment-overhaul-for-artificial-feet/article_2390b07c-bae7-5787-9490-5485682eb46e.html
Bennington (VT) Banner – http://www.benningtonbanner.com/health/ci_28711333/amputees-decry-medicare-payment-overhaul-artificial-feet
McPherson (KS) Sentinel – http://www.mcphersonsentinel.com/article/ZZ/20150827/NEWS/308279982
Sun Chronicle (Attleboro, MA) – http://www.thesunchronicle.com/news/state/amputees-decry-medicare-payment-overhaul-for-artificial-feet/article_f925d21c-cc03-5b37-bfa8-315d160e5e9e.html
Daily American (West Frankfort, IL) –http://www.dailyamericannews.com/article/ZZ/20150827/NEWS/308279982
Waynesville (MO) Daily Guide –http://www.waynesvilledailyguide.com/article/ZZ/20150827/NEWS/308279982
Journal Times (Racine, WI) – http://journaltimes.com/business/technology/amputees-decry-medicare-payment-overhaul-for-artificial-feet/article_27827fde-c666-53a9-aa9f-93bf05f828f8.html
Pratt (KS) Tribune – http://www.pratttribune.com/article/ZZ/20150827/NEWS/308279982
Standard-Times (New Bedford, MA) –http://www.southcoasttoday.com/article/ZZ/20150827/NEWS/308279982
McDonough County Voice (Macomb, IL) –http://www.mcdonoughvoice.com/article/ZZ/20150827/NEWS/308279982
Springfield (OH) News-Sun – http://www.springfieldnewssun.com/ap/ap/top-news/amputees-decry-medicare-payment-overhaul-for-artif/nnRtD/
Herald & Review (Decatur, IL) – http://herald-review.com/business/technology/amputees-decry-medicare-payment-overhaul-for-artificial-feet/article_12f4f745-809e-5723-89b4-7125074bd053.html
Grand Island (NE) Independent – http://www.theindependent.com/news/state/amputees-decry-medicare-payment-overhaul-for-artificial-feet/article_ad50d8d3-9c53-5fa1-a23e-ee7d8fac3d3d.html
Hastings (NE) Tribune – http://www.hastingstribune.com/amputees-decry-medicare-payment-overhaul-for-artificial-feet/article_da8085ac-0a27-560f-aa04-3a009c3d1542.html
Daily Journal (Park Hills, MO) – http://dailyjournalonline.com/news/tech/amputees-decry-medicare-payment-overhaul-for-artificial-feet/article_40166060-a88e-5f37-a542-c4d0a3400368.html
Cortez (CO) Journal – http://www.cortezjournal.com/article/20150827/APW/308279923/Amputees-decry-Medicare-payment-overhaul-for-artificial-feet
Belleville (IL) News-Democrat – http://www.bnd.com/news/article32513055.html
Daily Siftings Herald (Arkadelphia, AR) –http://www.siftingsherald.com/article/ZZ/20150827/NEWS/308279982
Rolla (MO) Daily News –
LNP Media Group/Lancaster (PA) Online – http://lancasteronline.com/news/health/amputees-decry-medicare-payment-overhaul-for-artificial-feet/article_a106b464-a52e-594f-86d2-12f584dca80e.html
Decatur (AL) Daily – http://www.decaturdaily.com/news/other_news/national/amputees-decry-medicare-payment-overhaul-for-artificial-feet/article_783702a4-29e4-52a6-b094-f3bd104f8276.html
Galveston County (TX) Daily News – http://www.galvnews.com/news_ap/health/article_f6f58b27-155b-5d7b-9dd2-b55729df0cb1.html
Spartanburg (SC) Herald-Journal – http://www.goupstate.com/article/20150827/APW/308279923
Maysville (KY) Ledger Independent – http://www.maysville-online.com/lifestyles/health-med-fit/amputees-decry-medicare-payment-overhaul-for-artificial-feet/article_6af8edf6-4ac4-5c56-b6af-68135e09cdc4.html
Gadsden (AL) Times – http://www.gadsdentimes.com/article/20150827/APW/308279923
Yankton (SD) Daily Press & Dakotan – http://www.yankton.net/news/state_ap_ne/article_efe8c076-3bf9-5570-b4f4-210cd1f6871e.html
Daily Republican (Marion, IL) –http://www.dailyrepublicannews.com/article/ZZ/20150827/NEWS/308279982
Connecticut Post, Hearst News – http://blog.ctnews.com/kantrowitz/2015/08/26/dont-turn-back-the-clock-on-standard-of-care-for-two-million-american-amputees/
The World (Coos Bay, OR) –
http://theworldlink.com/news/national/economy/tech/amputees-decry-medicare-payment-overhaul-for-artificial-feet/article_882194ae-0d10-53b8-a542-ec9a3940d7d7.html
Dothan (AL) Eagle – http://www.dothaneagle.com/news/ap/politics/amputees-decry-medicare-payment-overhaul-for-artificial-feet/article_fda35110-bcc7-5d72-9356-2ac2e37dd9f3.html
Daily Comet (Thibodaux, LA) – http://www.dailycomet.com/article/20150827/APW/308279923
Santa Maria (CA) Times – http://santamariatimes.com/business/technology/amputees-decry-medicare-payment-overhaul-for-artificial-feet/article_294bea9e-b9ca-55f0-a6fd-1ac5392826fe.html
Journal News (Hamilton, OH) – http://www.journal-news.com/ap/ap/top-news/amputees-decry-medicare-payment-overhaul-for-artif/nnRtD/
Times Daily (Florence, AL) – http://www.timesdaily.com/news/nation/amputees-decry-medicare-payment-overhaul-for-artificial-feet/article_988c5c0b-b35b-51c3-bd70-b730930dedb9.html
Redding (CA) Record Searchlight – http://www.redding.com/news/national/amputees-unite-against-new-medicare-proposal-for-prosthetic-limb-coverage
Evansville (IN) Courier & Press – http://www.courierpress.com/news/national/amputees-unite-against-new-medicare-proposal-for-prosthetic-limb-coverage
Anderson (SC) Independent Mail – http://www.independentmail.com/news/national/amputees-unite-against-new-medicare-proposal-for-prosthetic-limb-coverage
San Angelo (TX) Standard Times – http://www.gosanangelo.com/news/national/amputees-unite-against-new-medicare-proposal-for-prosthetic-limb-coverage
Kitsap (WA) Sun – http://www.kitsapsun.com/news/national/amputees-unite-against-new-medicare-proposal-for-prosthetic-limb-coverage
Ventura County Star – http://www.vcstar.com/news/national/amputees-unite-against-new-medicare-proposal-for-prosthetic-limb-coverage
Storm Lake (IA) Pilot-Tribune – http://www.stormlakepilottribune.com/story/2224602.html
Newser – http://www.newser.com/article/7f01adcbd18c4661b839371962894f10/industry-campaign-against-medicare-payment-overhaul-gets-backing-of-famous-amputees.html
com – http://townhall.com/news/politics-elections/2015/08/27/amputees-decry-medicare-payment-overhaul-for-artificial-feet-n2044386
Insurance News Net – https://insurancenewsnet.com/oarticle/2015/08/23/local-amputee-slams-medicare-proposal-limiting-access-to-high-tech-prostheses.html
Rehab Management – http://www.rehabpub.com/2015/08/hearing-rally-august-26-air-concerns-proposed-medicare-prosthetics-reimbursement-policy/
Tech Times – http://www.techtimes.com/articles/79395/20150826/medicare-proposal-could-make-it-harder-for-amputees-to-get-prosthetics.htm
New Mobility magazine – http://www.newmobility.com/2015/08/hands-off-our-legs-amputees-to-protest-new-medicare-rule/
Healio – http://www.healio.com/orthotics-prosthetics/legislation/news/online/%7B102d17e5-aa53-40c5-b49a-f0c793be46a3%7D/aopa-amputee-coalition-share-impact-of-proposed-lcd-on-amputees
Healio (story #2) – http://www.healio.com/orthotics-prosthetics/orthotics/news/online/%7Be58eb054-a66d-429c-8e9a-3d65954b433b%7D/limb-loss-community-speaks-out-against-lcd-proposal-at-open-comment-meeting
O&P magazine – http://www.oandp.com/articles/NEWS_2015-08-26_02.asp
Surgical Products – http://www.surgicalproductsmag.com/blogs/2015/08/groups-respond-proposed-changes-medicare
Disabled World magazine – http://www.disabled-world.com/medical/healthcare/us-medicare/setback.php
National Center for Public Policy Research blog –http://www.conservativeblog.org/amyridenour/2015/8/24/are-amputees-medicares-next-victims.html
Strategic Health Care Weekly e-Bulletin – http://strategichealthcare.net/2015/08/24/8242015-weekly-e-bulletin/
WUSA TV/Washington DC – http://www.wusa9.com/story/news/health/2015/08/27/amputees-decry-medicare-payment-overhaul-artificial-feet/32469405/
WFXT TV/Boston, MA – http://www.myfoxboston.com/story/29889727/amputees-decry-medicare-payment-overhaul-for-artificial-feet
WHDH TV/Boston, MA – http://www.whdh.com/story/29892636/amputees-decry-medicare-payment-overhaul-for-artificial-feet
KVVU TV/Las Vegas – http://www.fox5vegas.com/story/29889768/amputees-decry-medicare-payment-overhaul-for-artificial-feet
WSB TV/Atlanta, GA – http://www.wsbtv.com/news/ap/top-news/amputees-decry-medicare-payment-overhaul-for-artif/nnRtD/
KIRO TV/Seattle, WA – http://www.kirotv.com/ap/ap/top-news/amputees-decry-medicare-payment-overhaul-for-artif/nnRtD/
KPTV/Portland, OR – http://www.kptv.com/story/29889767/amputees-decry-medicare-payment-overhaul-for-artificial-feet
WTHR TV/Indianapolis, IN – http://www.wthr.com/story/29889767/amputees-decry-medicare-payment-overhaul-for-artificial-feet
KPHO TV/Phoenix, AZ – http://www.kpho.com/story/29889767/amputees-decry-medicare-payment-overhaul-for-artificial-feet
KLKN TV/Lincoln, NE – http://www.klkntv.com/story/29889728/amputees-decry-medicare-payment-overhaul-for-artificial-feet
KUSI TV/San Diego, CA – http://www.kusi.com/story/29889767/amputees-decry-medicare-payment-overhaul-for-artificial-feet
KCTV/Kansas City, MO – http://www.kctv5.com/story/29889767/amputees-decry-medicare-payment-overhaul-for-artificial-feet
WPXI TV/Pittsburgh, PA – http://www.wpxi.com/news/ap/top-news/amputees-decry-medicare-payment-overhaul-for-artif/nnRtD/
WSMV TV/Nashville, TN – http://www.wsmv.com/story/29889767/amputees-decry-medicare-payment-overhaul-for-artificial-feet
WLWC TV/Providence, RI – http://www.thecwprov.com/story/29889767/amputees-decry-medicare-payment-overhaul-for-artificial-feet
WCSC TV/Charleston, SC – http://www.live5news.com/story/29889767/amputees-decry-medicare-payment-overhaul-for-artificial-feet
KGMB TV/Honolulu, HI – http://www.hawaiinewsnow.com/story/29889768/amputees-decry-medicare-payment-overhaul-for-artificial-feet
KMPH TV/Fresno, CA – http://www.kmph-kfre.com/story/29889767/amputees-decry-medicare-payment-overhaul-for-artificial-feet
WAVE TV/Louisville, KY – http://www.wave3.com/story/29889767/amputees-decry-medicare-payment-overhaul-for-artificial-feet
WDRB TV/Louisville, KY – http://www.wdrb.com/story/29889767/amputees-decry-medicare-payment-overhaul-for-artificial-feet
WLEX TV/Lexington, KY – http://www.lex18.com/story/29889767/amputees-decry-medicare-payment-overhaul-for-artificial-feet
WBBH TV/Fort Myers, FL – http://www.nbc-2.com/story/29889767/amputees-decry-medicare-payment-overhaul-for-artificial-feet
WHBQ TV/Memphis, TN – http://www.myfoxmemphis.com/story/29889767/amputees-decry-medicare-payment-overhaul-for-artificial-feet
WJAX TV/Jacksonville, FL – http://www.actionnewsjax.com/ap/ap/top-news/amputees-decry-medicare-payment-overhaul-for-artif/nnRtD/
WOKV TV/Jacksonville, FL – http://www.wokv.com/ap/ap/top-news/amputees-decry-medicare-payment-overhaul-for-artif/nnRtD/
WRAL TV/Raleigh, NC – http://www.wral.com/amputees-decry-medicare-payment-overhaul-for-artificial-feet/14857170/?comment_order=forward
WISH TV/Indianapolis, IN – http://wishtv.com/ap/amputees-decry-medicare-payment-overhaul-for-artificial-feet/
WOWK TV/Charleston, WV – http://www.wowktv.com/story/29889767/amputees-decry-medicare-payment-overhaul-for-artificial-feet
WSOC TV/Charlotte, NC – http://www.wsoctv.com/ap/ap/top-news/amputees-decry-medicare-payment-overhaul-for-artif/pCpTmX/
WCMH TV/Columbus, OH – http://nbc4i.com/ap/amputees-decry-medicare-payment-overhaul-for-artificial-feet/
KXAN TV/Austin, TX – http://kxan.com/ap/amputees-decry-medicare-payment-overhaul-for-artificial-feet/
WRIC TV/Richmond, VA – http://wric.com/ap/amputees-decry-medicare-payment-overhaul-for-artificial-feet/
WWBT TV/Richmond, VA – http://www.nbc12.com/story/29889729/amputees-decry-medicare-payment-overhaul-for-artificial-feet
WTVR TV Richmond VA – https://www.google.com/webhp?sourceid=chrome-instant&ion=1&espv=2&ie=UTF-8#q=cbs%206%20richmond
WGNO TV/Metairie & New Orleans  – http://wgno.com/2015/08/26/amputees-fight-medicare-proposal-to-limit-prosthetics/
WKMG TV/Orlando, FL – http://www.clickorlando.com/lifestyle/health/amputees-fight-proposal-to-limit-prosthetics/34933858
WKBW TV/Buffalo, NY – http://www.wkbw.com/news/national/amputees-unite-against-new-medicare-proposal-for-prosthetic-limb-coverage
WDBJ TV/Roanoke, VA – http://www.wdbj7.com/video/proposed-medicare-policy-for-amputees-could-be-setback/34829914
WWLP TV/Springfield, MA – http://wwlp.com/2015/08/26/amputees-fight-medicare-proposal-to-limit-prosthetics/
ABC15 TV/Phoenix, AZ – http://www.abc15.com/news/national/amputees-unite-against-new-medicare-proposal-for-prosthetic-limb-coverage
WXYZ TV/Detroit, MI – http://www.wxyz.com/news/national/amputees-unite-against-new-medicare-proposal-for-prosthetic-limb-coverage
KSHB TV/Kansas City, KS – http://www.kshb.com/news/national/amputees-unite-against-new-medicare-proposal-for-prosthetic-limb-coverage
10News TV/San Diego, CA – http://www.10news.com/news/amputees-unite-against-new-medicare-proposal-for-prosthetic-limb-coverage
WMAR TV/Baltimore, MD – http://www.abc2news.com/news/national/amputees-unite-against-new-medicare-proposal-for-prosthetic-limb-coverage
WCPO TV/Cincinnati, OH – http://www.wcpo.com/news/national/amputees-unite-against-new-medicare-proposal-for-prosthetic-limb-coverage
WRTV TV/Indianapolis, IN – http://www.theindychannel.com/news/amputees-unite-against-new-medicare-proposal-for-prosthetic-limb-coverage
ABC Action News/Tampa Bay, FL – http://www.abcactionnews.com/news/national/amputees-unite-against-new-medicare-proposal-for-prosthetic-limb-coverage
Good Morning Chattanooga, ABC – http://app.criticalmention.com/app/#clip/view?15607175/token/a38f80c8-3e7c-4f06-ad32-2bb223a89d48
KERO 23 TV/Bakersfield, CA – http://www.turnto23.com/news/amputees-unite-against-new-medicare-proposal-for-prosthetic-limb-coverage
WISC TV/Madison, WI – http://www.channel3000.com/health/amputees-fight-proposal-to-limit-prosthetics/34933858
WBAY TV/Green Bay, WI – http://wbay.com/ap/amputees-decry-medicare-payment-overhaul-for-artificial-feet/
WAVY TV/Portsmouth, VA – http://wavy.com/ap/amputees-decry-medicare-payment-overhaul-for-artificial-feet/
WTEN TV/Albany, NY – http://news10.com/ap/amputees-decry-medicare-payment-overhaul-for-artificial-feet/
WHEC TV/Rochester, NY – http://www.whec.com/article/stories/s3890180.shtml
KTBS TV/Shreveport, LA – http://www.ktbs.com/story/29889767/amputees-decry-medicare-payment-overhaul-for-artificial-feet
WCAX TV/Burlington, VT – http://www.wcax.com/story/29889767/amputees-decry-medicare-payment-overhaul-for-artificial-feet
WHIO TV/Dayton, OH – http://www.whio.com/ap/ap/top-news/amputees-decry-medicare-payment-overhaul-for-artif/nnRtD/
WDTN TV/Dayton OH – http://wdtn.com/2015/08/26/amputees-concerned-for-their-future-mobility/
Fox 8 TV/High Point NC – http://app.criticalmention.com/app/#clip/view?15607476/token/a38f80c8-3e7c-4f06-ad32-2bb223a89d48
WPSD TV/Paducah KY – http://app.criticalmention.com/app/#clip/view?15607476/token/a38f80c8-3e7c-4f06-ad32-2bb223a89d48
KTUL TV/Tulsa, OK – http://app.criticalmention.com/app/#clip/view?15607131/token/a38f80c8-3e7c-4f06-ad32-2bb223a89d48
WPTZ TV/Plattsburgh, NY – http://www.wptz.com/health/amputees-fight-proposal-to-limit-prosthetics/34933858
WKRG TV/Mobile, AL – http://wkrg.com/ap/amputees-decry-medicare-payment-overhaul-for-artificial-feet/
KHGI TV/Kearney, NE – http://www.nebraska.tv/story/29889767/amputees-decry-medicare-payment-overhaul-for-artificial-feet
WJHL TV/Johnson City, TN – http://wjhl.com/ap/amputees-decry-medicare-payment-overhaul-for-artificial-feet/
WRBL TV/Columbus, GA – http://wrbl.com/ap/amputees-decry-medicare-payment-overhaul-for-artificial-feet/
WRBL TV/Columbus GA – http://wrbl.com/2015/08/24/columbus-amputees-could-face-significant-cuts-to-reimbursement-for-prosthetic-care/
KXLH TV/Helena, MT – http://www.kxlh.com/story/29887043/amputees-fight-medicare-proposal-to-limit-prosthetics
KTRV TV/Great Falls, MT – http://www.krtv.com/story/29887043/amputees-fight-medicare-proposal-to-limit-prosthetics
WHIZ TV/Zanesville, OH – https://www.whiznews.com/content/news/national/2015/08/27/amputees-decry-medicare-payment-overhaul-for-artificial-feet
WVVA TV/Bluefield, WV – http://www.wvva.com/story/29889767/amputees-decry-medicare-payment-overhaul-for-artificial-feet
KSWO TV/Lawton, OK – http://www.kswo.com/story/29889767/amputees-decry-medicare-payment-overhaul-for-artificial-feet
KIII TV/Corpus Christi, TX – http://www.kiiitv.com/story/29889767/amputees-decry-medicare-payment-overhaul-for-artificial-feet
KRIS TV/Corpus Christi, TX – http://www.kristv.com/story/29889767/amputees-decry-medicare-payment-overhaul-for-artificial-feet
KZTV/Corpus Christi, TX – http://www.kztv10.com/story/29889767/amputees-decry-medicare-payment-overhaul-for-artificial-feet
WBMA TV/Birmingham, AL – http://www.abc3340.com/story/29889767/amputees-decry-medicare-payment-overhaul-for-artificial-feet
WSJV TV/South Bend, IN – http://www.fox28.com/story/29889767/amputees-decry-medicare-payment-overhaul-for-artificial-feet
WHNS TV/Greenville, SC – http://www.foxcarolina.com/story/29889767/amputees-decry-medicare-payment-overhaul-for-artificial-feet
WSET TV/Lynchburg, VA – http://www.wset.com/story/29889767/amputees-decry-medicare-payment-overhaul-for-artificial-feet
WWTV/Cadillac, MI – http://www.9and10news.com/story/29889767/amputees-decry-medicare-payment-overhaul-for-artificial-feet
KTTC TV/Rochester, MN – http://www.kttc.com/story/29889767/amputees-decry-medicare-payment-overhaul-for-artificial-feet
WKOW TV/Madison, WI – http://www.wkow.com/story/29889767/amputees-decry-medicare-payment-overhaul-for-artificial-feet
WTOL TV/Toledo, OH – http://www.toledonewsnow.com/story/29889768/amputees-decry-medicare-payment-overhaul-for-artificial-feet
WBOC TV/Salisbury, MD – http://www.wboc.com/story/29889767/amputees-decry-medicare-payment-overhaul-for-artificial-feet
KNDO TV/Yakima, WA – http://www.nbcrightnow.com/story/29889767/amputees-decry-medicare-payment-overhaul-for-artificial-feet
KWWL TV/Waterloo, IA – http://www.kwwl.com/story/29889767/amputees-decry-medicare-payment-overhaul-for-artificial-feet
KWES TV/Odessa, TX – http://www.newswest9.com/story/29889767/amputees-decry-medicare-payment-overhaul-for-artificial-feet
WQOW TV/Eau Claire, WI – http://www.wqow.com/story/29889767/amputees-decry-medicare-payment-overhaul-for-artificial-feet
WVIR TV/Charlottesville, VA – http://www.nbc29.com/story/29889729/amputees-decry-medicare-payment-overhaul-for-artificial-feet
KTUL TV/Tulsa, OK – http://www.ktul.com/story/29889767/amputees-decry-medicare-payment-overhaul-for-artificial-feet
WSFA TV/Montgomery, AL – http://www.wsfa.com/story/29889768/amputees-decry-medicare-payment-overhaul-for-artificial-feet
KFDA TV/Amarillo, TX – http://www.newschannel10.com/story/29889767/amputees-decry-medicare-payment-overhaul-for-artificial-feet
WAFF TV/Huntsville, AL – http://www.waff.com/story/29889768/amputees-decry-medicare-payment-overhaul-for-artificial-feet
WREX TV/Rockford, IL – http://www.wrex.com/story/29889767/amputees-decry-medicare-payment-overhaul-for-artificial-feet
KOKI TV/Tulsa, OK – http://www.fox23.com/ap/ap/top-news/amputees-decry-medicare-payment-overhaul-for-artif/nnRtD/
KTIV TV/Sioux City, IA – http://www.ktiv.com/story/29889728/amputees-decry-medicare-payment-overhaul-for-artificial-feet
WVNS TV/Lewisburg, WV – http://www.wvnstv.com/story/29889729/amputees-decry-medicare-payment-overhaul-for-artificial-feet
WGGB TV/Springfield, MA – http://www.westernmassnews.com/story/29889727/amputees-decry-medicare-payment-overhaul-for-artificial-feet
KBMT TV/Beaumont, TX – http://www.12newsnow.com/story/29889767/amputees-decry-medicare-payment-overhaul-for-artificial-feet
WAOW TV/Wausau, WI – http://www.waow.com/story/29889767/amputees-decry-medicare-payment-overhaul-for-artificial-feet
KTMF TV/Missoula, MT – http://www.abcfoxmontana.com/story/29889767/amputees-decry-medicare-payment-overhaul-for-artificial-feet
WXOW TV/La Crosse, WI – http://www.wxow.com/story/29889767/amputees-decry-medicare-payment-overhaul-for-artificial-feet
WFMJ TV/Youngstown, OH – http://www.wfmj.com/story/29889767/amputees-decry-medicare-payment-overhaul-for-artificial-feet
WDAM TV/Laurel, MS – http://www.wdam.com/story/29889768/amputees-decry-medicare-payment-overhaul-for-artificial-feet
KXMC TV/Minot, ND – http://www.kxnet.com/story/29889767/amputees-decry-medicare-payment-overhaul-for-artificial-feet
KAUZ TV/Wichita Falls, TX – http://www.newschannel6now.com/story/29889767/amputees-decry-medicare-payment-overhaul-for-artificial-feet
WTOP AM/Federal News Radio/Washington DC – http://federalnewsradio.com/government-news/2015/08/amputees-decry-medicare-payment-overhaul-for-artificial-feet/
KLBJ FM/Austin, TX – http://www.newsradioklbj.com/news/technology/high-tech/amputees-decry-medicare-payment-overhaul-artificial-feet
Cybercast News Service – http://www.cnsnews.com/news/article/amputees-decry-medicare-payment-overhaul-artificial-feet
Salem Radio Network – http://www.srnnews.com/amputees-decry-medicare-payment-overhaul-for-artificial-feet/
WDBO FM/Orlando, FL – http://www.news965.com/ap/ap/top-news/amputees-decry-medicare-payment-overhaul-for-artif/nnRtD/
KSL AM/Salt Lake City, UT – https://www.ksl.com/?sid=36193048
KXRA FM/Alexandria, MN –http://www.voiceofalexandria.com/everything_else/health_and_beauty/amputees-decry-medicare-payment-overhaul-for-artificial-feet/article_442c0cd3-4173-5120-9a30-ac760a69258e.html
WTN Talk Radio/Nashville, TN – http://www.997wtn.com/news/amputees-fight-medicare-proposal-to-limit-prosthetics/
KMJ Talk Radio/Fresno, CA – http://www.kmjnow.com/news/amputees-fight-medicare-proposal-to-limit-prosthetics/
KKOH Talk Radio/Reno, NV – http://www.kkoh.com/news/amputees-fight-medicare-proposal-to-limit-prosthetics/
WVNN Radio/Athens, AL – http://www.wvnn.com/news/amputees-fight-medicare-proposal-to-limit-prosthetics/
Newsday (Long Island, NY) – http://www.newsday.com/news/nation/amputees-decry-medicare-payment-overhaul-for-artificial-feet-1.10782541
Arizona Daily Sun (Flagstaff, AZ) – http://azdailysun.com/lifestyles/health-med-fit/amputees-decry-medicare-payment-overhaul-for-artificial-feet/article_757c825f-0c72-5581-9d75-f71c26403f23.html
Aiken (SC) standard – http://www.aikenstandard.com/article/20150827/AIK0107/150829457
Akron (OH) Beacon Journal – http://www.ohio.com/news/nation/amputees-decry-medicare-payment-overhaul-for-artificial-feet-1.619648
Waterbury (CT) Republican-American – http://www.rep-am.com/articles/2015/08/28/news/national/904127.txt
Naples (FL) Herald – http://naplesherald.com/2015/08/27/amputees-decry-medicare-payment-overhaul-for-artificial-feet/
Modesto (CA) Bee – http://www.modbee.com/news/article32513055.html
Napa Valley (CA) Register – http://napavalleyregister.com/ap/washington/amputees-decry-medicare-payment-overhaul-for-artificial-feet/article_844b2d49-b865-5cfa-b8e8-426db2d90d9b.html
Jackson Hole (WY) News & Guide – http://www.jhnewsandguide.com/jackson_hole_daily/our_world_people/our_world/amputees-decry-medicare-payment-overhaul-for-artificial-feet/article_36d300d6-36c2-5a69-879b-772326e89e99.html
News Tribune (Tacoma, WA) – http://www.thenewstribune.com/news/business/article32513055.html
Stamford (CT) Advocate – http://www.stamfordadvocate.com/business/technology/article/Amputees-decry-Medicare-payment-overhaul-for-6468252.php
Lockport (NY) Union-Sun & Journal – http://www.lockportjournal.com/news/amputees-decry-medicare-payment-overhaul-for-artificial-feet/article_06693a4a-41c4-53f7-a48a-166d99ca4d70.html
The Pantagraph (Bloomington-Normal, IL) – http://www.pantagraph.com/ap/washington/amputees-decry-medicare-overhaul-for-artificial-feet/article_a92d3e3f-e8c9-5b59-b61d-75c74e341351.html
Marietta (GA) Daily Journal – http://mdjonline.com/pages/full_story/push?article-Amputees+decry+Medicare+payment+overhaul+for+artificial+feet+%20&id=26828469
Cherokee (GA) Tribune – http://cherokeetribune.com/view/full_story/26828465/article-Amputees-decry-Medicare-payment-overhaul-for-artificial-feet-?
Tri-City Herald (Kennewick, WA) – http://www.tri-cityherald.com/2015/08/27/3711585/amputees-decry-medicare-payment.html
East Oregonian (Pendleton, OR) – http://www.eastoregonian.com/amputees-decry-medicare-payment-overhaul-for-artificial-feet-eo-ap-webfeeds-news-nation-worldd9cf0870b02843568469cc1599da3992
Norwich (CT) Bulletin – http://www.norwichbulletin.com/article/ZZ/20150827/NEWS/308279982/0/SEARCH
Independent Record (Helena, MT) – http://helenair.com/business/technology/amputees-decry-medicare-payment-overhaul-for-artificial-feet/article_3ddc63a9-658c-56d5-993e-d89c8de150ad.html
Imperial Valley (CA) Press – http://www.ivpressonline.com/news/apgeneral/amputees-decry-medicare-payment-overhaul-for-artificial-feet/article_e513b99a-2268-55d1-bb34-c8dcdd3f32d0.html
Observer–Reporter (Washington, PA) – http://www.observer-reporter.com/article/20150827/NEWS05/150829529
Pharos-Tribune (Logansport, IN) – http://www.pharostribune.com/news/nation_world/article_5d685257-5252-5ac8-b65d-4475d0a5d536.html
Oswego (NY) Palladium-Times – http://www.palltimes.com/news/local/article_8a0e9670-0dc3-57a4-abc2-5ddd6cf327a4.html
Columbus (NE) Telegraph – http://columbustelegram.com/news/state-and-regional/amputees-decry-medicare-payment-overhaul-for-artificial-feet/article_f45a942c-5c73-5c84-ba2d-6dd6f8f7fdd6.html
Star Democrat (Easton, MD) – http://www.stardem.com/ap/washington/article_cfe82f3a-01de-5927-be6c-d4769ae06ae9.html
Joseph (MO) News-Press – http://www.newspressnow.com/news/technology/article_601f7902-515a-5df5-98da-076ed0d6ee67.html
Post-Star (Glen Falls, NY) – http://poststar.com/business/technology/amputees-decry-medicare-payment-overhaul-for-artificial-feet/article_2365a62d-d619-5a42-b91e-4b0d1b4938d9.html
Quincy (IL) Herald-Whig – http://www.whig.com/story/29889752/amputees-decry-medicare-payment-overhaul-for-artificial-feet
The Herald (Rock Hill, SC) – http://www.heraldonline.com/news/article32513055.html
Seymour (IN) Tribune – http://www.tribtown.com/view/story/d9cf0870b02843568469cc1599da3992/US–Medicare-Artificial-Feet
Greenfield (IN) Reporter – http://www.greenfieldreporter.com/view/story/d9cf0870b02843568469cc1599da3992/US–Medicare-Artificial-Feet
Artesia (NM) Daily Press – https://www.artesianews.com/1095560/amputees-decry-medicare-payment-overhaul-for-artificial-feet.html
Ledger-Enquirer (Columbus, GA) – http://www.ledger-enquirer.com/news/article32513055.html
Wayne (PA) Independent – http://www.wayneindependent.com/article/ZZ/20150827/NEWS/308279982
Beatrice (NE) Daily Sun – http://beatricedailysun.com/news/state-and-regional/amputees-decry-medicare-payment-overhaul-for-artificial-feet/article_3c65ade5-484d-5ae3-8a95-b9d2736aa6e1.html
Bradford (PA) Era – http://www.bradfordera.com/news/article_41c0cdda-4d12-11e5-8377-1fd955fc8ec4.html
WVUE-TV (New Orleans, LA) – http://www.fox8live.com/story/29889768/amputees-decry-medicare-payment-overhaul-for-artificial-feet
WCAV-TV/Charlottesville Newsplex (Charlottesville, VA) – http://www.newsplex.com/home/headlines/Bombing-Survivor-Veteran-Campaign-Against-New-Requirements-for-Artificial-Feet-323112661.html
KOTV (Tulsa, OK) – http://www.newson6.com/story/29889767/amputees-decry-medicare-payment-overhaul-for-artificial-feet
WCIV-TV (Charleston, SC) – http://www.abcnews4.com/story/29889767/amputees-decry-medicare-payment-overhaul-for-artificial-feet
KWTV (Oklahoma City, OK) – http://www.news9.com/story/29889767/amputees-decry-medicare-payment-overhaul-for-artificial-feet
WKPT-TV (Kingsport, TN) – http://abc19.tv/amputees-decry-medicare-payment-overhaul-for-artificial-feet/
WBRC-TV (Birmingham, AL) – http://www.myfoxal.com/story/29889767/amputees-decry-medicare-payment-overhaul-for-artificial-feet
WLNE-TV (New Bedford, MA) – http://www.abc6.com/story/29889767/amputees-decry-medicare-payment-overhaul-for-artificial-feet
KOAA-TV (Pueblo, CO) – http://www.koaa.com/story/29889767/amputees-decry-medicare-payment-overhaul-for-artificial-feet
WNEM-TV (Flint/Tri-Cities, MI) – http://www.wnem.com/story/29889767/amputees-decry-medicare-payment-overhaul-for-artificial-feet